MultiCon devices are versatile controllers with a capability of measuring and data logging simultaneously.
Watch movie

Powerful and versatile data-loggers.
MultiCon Sidgets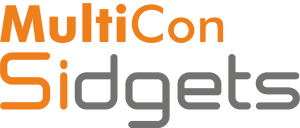 MultiCon Sidgets technology gives the possibility of the easy creation of SCADA visualizations for real-time viewing of measurements provided by MultiCon devices. Each visualization is created by the user in the form of a web page, but in order to create a simple visualization, no programming expertise is required. To create simple visualizations, you only need to read this guide. Additionally, MultiCon Sidgets technology has been developed in such a way that more experienced users can use it as part of a larger IT system, e.g. with visualizations available in the area of user accounts.
As this technology works in accordance with the latest web development standards, such as HTML5+, CSS3+, JS6+, it requires the use of newer versions of web browsers, but the hardware platform or operating system used to display this visualization is irrelevant.
Enabling access to MultiCon devices via the Internet and placing the prepared visualization on a publicly accessible server will additionally allow for surveillance of monitored facilities from any place in the world.

This option is available for devices equipped with firmware version 5.07 or newer. It offers:
SCADA visualization,
real-time data preview,
objects monitoring from any place in the world,
access to data from any device supporting a web browser,
compatibility with the latest web standards such as HTML5 +, CSS3 +, JS6 +,
building websites possibility without the specialized programming knowledge,
the ability to place the prepared visualization on a public server,
possibility of integration with a larger, external IT system.